| | |
| --- | --- |
| All Systems Go in the Wind Business | |
Thursday, April 30, 2009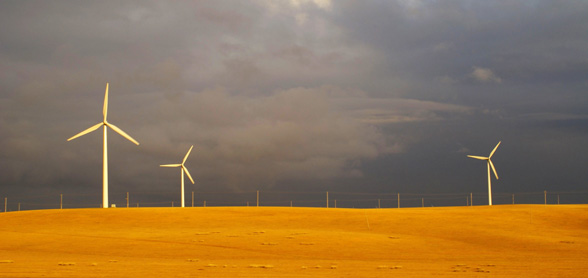 You don't need to be a weatherman to see which way the wind's blowing. In the United States, Texas oilman turned wind energy advocate, T. Boone Pickens, is promoting T-bone size wind energy investment as the solution to America's oil dependency.
In the United Kingdom, in a move described by the British Wind Energy Association chairman as "impressively bold", the Crown Estate, property manager for the royal family, announced an ambitious offshore development program for wind power and investment in the world's largest ever wind turbine (7.5 MW).
In China, the government recently doubled its wind goal to an Olympian 10 GW in the next two years, and in Beijing showcased not only its athletes but also wind turbines.
From West to East, the establishment has embraced wind energy. Tomorrow might belong to solar or biomass or some other renewable energy technology not yet invented, but today wind sits atop the global energy agenda.
Wind energy has come of age on several fronts. In the EU it was the leading source of new electricity generation in 2007, and in the United States it accounted for about 30% of all new power-producing capacity. In terms of direct costs, larger wind farms in windier areas are now considered competitive with many fossil fuel power plants and even superior economically when externalities are factored in.
"Wind power offers today what is arguably the world's greatest potential for future growth of renewables," said Felix Losada, spokesman for the European turbine manufacturer Nordex AG. "Alongside hydroelectricity it is also the most economical to produce. What's more, in good locations electricity can already be produced competitively from wind compared with conventional power stations, especially after the recent increases in the prices of fuels such as oil, coal and gas."
According to Marty Crotty, president of AES Wind Generation and vice president of AES Corp., "To the extent that the EPC [engineering, procurement and construction] costs are on the low end of the expected range or the carbon costs are on the low end of the expected range, wind becomes less competitive. But... both the EPC and the carbon costs have been going up, and to the extent they're in the middle or high end of their expected range, wind is very competitive."
Mission Possible? Wind Energy Gets its Marching Orders from Government Targets
Creating today's intense demand for wind energy is growing awareness of the economic dangers of oil dependency and the threat of global warming, which have led to a range of economic incentives and renewable energy mandates set by governments worldwide. Now viewed as the most mature and proven of all renewable technologies, governments are backing wind as the engine for their ambitious renewable energy goals. For example, the EU aims to get 20% of its energy from renewable sources by 2020, with wind contributing 12-14%. China is seeking 15% of its electricity from renewables by 2020. Hydroelectric power will contribute the biggest share, but wind energy is exceeding expectations and has already blown past its goal of 5 GW by 2010.
The feasibility of ambitious wind energy goals set by governments and states worldwide appears to be supported by research such as the U.S. Department of Energy's (DOE) May 2008 report, which concluded that wind power is capable of accounting for 20% of U.S. electricity by 2030. In June 2008 the International Energy Agency (IEA) released Energy Technology Perspective, which acknowledged that wind power would play the major role in reducing emissions in the power sector in the next 10-20 years. In one scenario, IEA forecast that wind energy could account for up to 17% of global power production by 2050.
All this adds up to unprecedented opportunity for wind turbine manufacturers, subcomponents suppliers, wind farm developers, and providers of adjunct products and services. Executives interviewed for this issue generally agreed that lofty goals are attainable for wind, but only with greater and more consistent government support, in addition to massive infrastructure investment in national grids worldwide: two very big 'ifs'. In the short term, some urgent but more manageable challenges, notably supply chain shortages and rising commodity and component prices, threaten to inhibit growth in an industry promoted as one of the cheapest and fastest energy sources to bring on line.
To reap the most from this period of high demand for wind energy, which looks set to continue for the next several years, global players up and down the manufacturing supply chain are engaged in record levels of capacity expansion, reaping the fruits but also the challenges of excess demand. Meanwhile, large wind farm developers, including utilities, are acquiring and investing globally in project pipelines, consolidating the wind generation sector at an unprecedented rate.
Soaring revenues illustrate the rapid growth of wind turbine sales, worth 25 billion euros ($40 billion) in 2007, according to the Global Wind Energy Council in Brussels. Nordex of Germany, for example, projected revenues of €1.1 billion by 2008 year's end, an increase of nearly 50% following 45% growth in 2007. India's Suzlon Energy's revenue rose 71% to $3.19 billion in its financial year ended March 31 2008. Vestas Wind Systems A/S of Denmark, the world's largest turbine manufacturer, with an estimated 23% marketshare, increased its revenue by around €1 billion to €4.861 billion in 2007 and forecast revenue of EUR 5.7 billion for 2008.
To meet record requirements for wind turbines, manufacturers have been investing heavily in factories worldwide, particularly where markets are moving fastest, notably in the U.S. and China, where wind power grew 45% and 145%, respectively in 2007, according to the Global Wind Energy Council.
Spanish turbine manufacturer Gamesa has established nine production centers in the last couple of years, four of them in the U.S. and four in China. In January 2008, Acciona, both a wind farm developer and a turbine manufacturer, opened its first production facility in the United States. In March 2008, the Danish turbine leader Vestas opened its first U.S. manufacturing facility, a blade factory, in Boulder, Colo., with additional plans to build the world's largest tower factory there "in spite of the uncertainty surrounding the extension of the PTC scheme." The 2.5-MW turbines to supply Nordex's U.S. contracts in 2008 and 2009 are largely being assembled in Germany. However, over the next few years, Nordex will be spending around $100 million to establish its own U.S. production facilities, and over the next four years aims to generate around 20% of sales in North America.
Some turbine manfacturers have pursued vertical integration from the start, notably Suzlon Energy and Gamesa. Suzlon purchased Hansen Transmissions in 2006 for €465 million; in earlier deals, Siemens acquired Flender and Winergy (gearboxes) and Vestas purchased Weier Electric. By contrast, Nordex's approach to components supply has been to let market forces reign rather than acquire or invest in the supply chain. "The market has proved us right," claimed Losada, who noted that many new component suppliers have appeared on the market, and established suppliers have invested in expanding their capacity.
The first Chinese manufacturers expected to enter the international market are Goldwind and Sinovel in 2009 and 2010. Testing organization Germanischer Lloyd said it is certifying the design of Sinovel's 3-MW turbine.
A few Chinese companies have entered the wind energy business through licensing agreements. A-Power Energy Generation in January 2008 announced that its subsidiary Liaoning GaoKe Energy Group had licensed technology from Norwin of Denmark and Fuhrlander of Germany. It said its 750 kW Norwin wind turbine was expected to sell for $0.46 to $0.51 million, and its 2.5-MW Fuhrlander wind turbine for $2.7 to $3.2 million, with 8% to 12% gross margins.
According to a report from The Climate Group, a non-profit organization, China will become the world's leading manufacturer of wind turbines by 2009. Vestas's decline in global marketshare from 28% in 2006 to 23% in 2007 was attributed to competition from China's domestic manufacturers.
- Adapted from Climate Change Business Journal, August/September 2008